Updated June 8, 2018
#3.1-26
Эмиль Горовец – ЭМИЛЬ ГОРОВЕЦ или ПОЁТ ЭМИЛЬ ГОРОВЕЦ

Emil Gorovets – EMIL GOROVETS or EMIL GOROVETS SINGS
| | |
| --- | --- |
| Label (Company): | Melodiya |
Catalogue number:

| | | |
| --- | --- | --- |
| Д-026201-2 | or | 33Д-026201-2 |
| | |
| --- | --- |
| Catalogue number of side 1: | |
| | | | |
| --- | --- | --- | --- |
| Catalogue number of side 2: | Д-026202 | or | 33Д-026202 |
| | |
| --- | --- |
| Matrix number of side 1: | 33Д026201/2-1 |
| | |
| --- | --- |
| Matrix number of side 2: | 33Д026202/2-1 |
| | |
| --- | --- |
| Rotation speed: | 33 1/3 rpm |
3-1 and katalog1-1
Sleeve, front side
(var. 1 by All-Union Recording Studio)

Обложка, лицевая сторона
(вар. 1 Всесоюзной студии грамзаписи)

Sleeve, front side
(admittedly var. 1 by Aprelevka Plant)

Обложка, лицевая сторона
(предположительно, вар. 1 Апрелевского завода)
1-1 / NewAuction1-1
Sleeve, front side
(var. 1 by Leningrad Plant)

Обложка, лицевая сторона
(вар. 1 Ленинградского завода)

Sleeve, front side
(var. 2 by Leningrad Plant)

Обложка, лицевая сторона
(вар. 2 Ленинградского завода)
cheslovas1-1 / glushenko1-1
Sleeve, front side
(var. 3 by Leningrad Plant)

Обложка, лицевая сторона
(вар. 3 Ленинградского завода)

Sleeve, front side
(var. 4 by Leningrad Plant)

Обложка, лицевая сторона
(вар. 4 Ленинградского завода)
5-1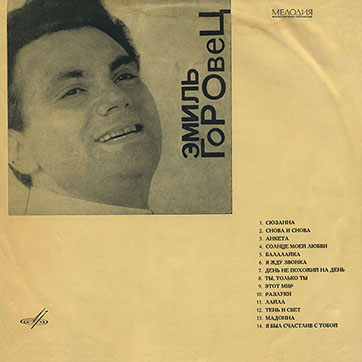 Sleeve, front side
(var. 5 by Leningrad Plant)
Обложка, лицевая сторона
(вар. 5 Ленинградского завода)
SIDE 2:
N
Title and authors on the Soviet (Russian) record
Time
Title and authors in English translation
6.
Мадонна
(Дж. Леннон и П. Маккартни – русский текст М. Подберёзского)
2:07
Madonna
(J. Lennon and P. McCartney – Russian text by M. Podberyozskiy)
Madonna - sound track from this LP
Sound track of the composition is presented for guidance only
Мадонна - звуковая дорожка с данного диска-гиганта
Звуковая дорожка композиции представлена исключительно в ознакомительных целях
NOTE:

This 12" LP which shows the title EMIL GOROVETS (or EMIL GOROVETS SINGS – some sleeve variations show such a title) presents the song Madonna (original title is Lady Madonna) sung in Russian by the Soviet singer Emil Gorovets who is accompanied by the instrumental ensemble directed by Vladimir Pilshshikov (not listed either on sleeves or labels). It's a track 6 on side 2.

For other details see the corresponding Plant (Recording Studio) pages of this edition.

Also Madonna was released on 7" one-sided flexi EP (refer to the main page of MADONNA ● SIRTAKI).
ПРИМЕЧАНИЕ:

На этом диске-гиганте под названием ЭМИЛЬ ГОРОВЕЦ (или ПОЁТ ЭМИЛЬ ГОРОВЕЦ – так указано на некоторых вариантах обложки) на стороне 2 (трек 6) представлена песня Мадонна (в оригинале Lady Madonna) на русском языке в исполнении советского певца Эмиля Горовца, которому аккомпанирует инструментальный ансамбль под управлением Владимира Никифоровича Пильщикова (ни на обложках, ни на этикетках не значится).

Другие подробности этого издания можно увидеть на страницах соответствующего завода (студии грамзаписи).

Также Мадонна была издана на 7" одностороннем гибком миньоне (см. главную страницу МАДОННА ● СИРТАКИ).
Click on image of the label to see the items by corresponding Plant (Recording Studio)
Щёлкните на изображение этикетки, чтобы увидеть экземпляры пластинок соответствующего завода (студии грамзаписи)