Updated November 7, 2023

Label (Company)
Country
Format
Number of records
Catalogue number
Catalogue number of side 1
Catalogue number of side 2
Matrix number of side 1

SW-1-3422-F3#5

(Winchester Plant for example)

[hand etched]

Matrix number of side 2

SW-2-3422-F3#3

(Winchester Plant for example)

[hand etched]

Mono or Stereo
Rotation speed, rpm
First release date
Click on image to enlarge
Щёлкните на картинку для её увеличения
---
Cover, front side

Обложка, лицевая сторона

Cover, back side

Обложка, задняя сторона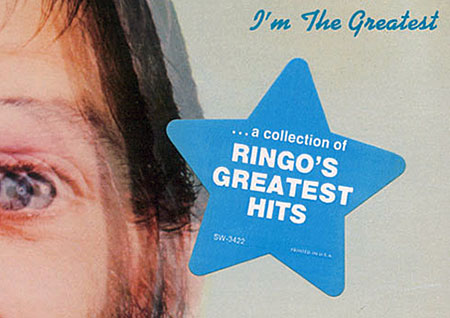 Hype sticker on the shrink wrap
Рекламный стикер на термоусадочной плёнке


Spine - the front side of the cover up
Корешок - обложка расположена лицевой стороной вверх
Inner sleeve, front side
(Winchester Plant for example)

Внутренний пакет, лицевая сторона
(на примере завода в Винчестере)

Inner sleeve, back side
(Winchester Plant for example)

Внутренний пакет, задняя сторона
(на примере завода в Винчестере)
Label, side 1

Этикетка, сторона 1

Label, side 2

Этикетка, сторона 2
---
SIDE 1
| | | | |
| --- | --- | --- | --- |
| N | Titles and authors | Time | Comments |
| 1 | You're Sixteen (R. Sherman - R. Sherman) | 2:50 | From the album RINGO (Apple SWAL-3413). Also single You're Sixteen / Devil Woman (Apple 1870). |
| 2 | No No Song (H. Axton - D. Jackson) | 2:30 | From the album GOODNIGHT VIENNA (Apple SW-3417). |
| 3 | It Don't Come Easy (Richard Starkey) | 3:00 | From the single It Don't Come Easy / Early 1970 (Apple 1831). |
| 4 | Photograph (R. Starkey - G. Harrison) | 3:58 | From the album RINGO (Apple SWAL-3413). Also single Photograph / Down And Out (Apple 1865). |
| 5 | Back Off Boogaloo (Richard Starkey) | 3:21 | From the single Back Off Boogaloo / Blindman (Apple 1849). |
SIDE 2
| | | | |
| --- | --- | --- | --- |
| N | Titles and authors | Time | Comments |
| 1 | Only You (And You Alone) (B. Ram - A. Rand) | 3:16 | From the album GOODNIGHT VIENNA (Apple SW-3417). Also single Only You / Call Me (Apple 1876). |
| 2 | Beaucoups Of Blues (Buzz Rabin) | 2:33 | From the album BEAUCOUPS OF BLUES (Apple SMAS 3368). |
| 3 | Oh My My (V. Poncia - R. Starkey) | 4:17 | From the album RINGO (Apple SWAL-3413). Also single Oh My My / Step Lightly (Apple 1872). |
| 4 | Early 1970 (Richard Starkey) | 2:19 | From the single It Don't Come Easy / Early 1970 (Apple 1831). |
| 5 | I'm The Greatest (John Lennon) | 3:23 | From the album RINGO (Apple SWAL-3413). |
NOTE

The first greatest hits album by Ringo Starr.

The album sleeve was designed by Roy Kohara, with the photography by Emerson/Loew with the photo special effects by Daniel Catherine. The inner sleeve includes the song lyrics on one side with sets of contact prints of Ringo on the other from a couple of rolls of film.

In the USA, the records of this collection were produced in three factories: Jacksonville, Los Angeles and Winchester. The printing was almost the same for all three factories with the exception of the top edge of the inner sleeves. Straight top have Los Angeles copies, and rounded top on Jacksonville and Winchester copies.
Records between factories can be distinguished only by the inscriptions in the runout area, where, in addition to the matrix number, there was a stamp of a specific plant. Also, all copies had the MASTERED BY CAPITOL stamp, which was machine-stamped in small print.

The Apple label on this pressing is not merely a red-tinted copy of the standard label. The copyright information at the bottom and the artist and title at the top are part of the label backdrop.

Some early Apple copies have a star-shaped sticker on the shrink wrap promoting the collection. Copies from 1976 have a gold foil sticker promoting Capitol's greatest hits collections for the year, as "The Greatest Music Ever Sold".
ПРИМЕЧАНИЕ

Первый сборник лучших хитов Ринго Старра.

Дизайн обложки альбома-сборника был разработан Роем Кохара (Roy Kohara) на основе фотографий Эмерсон/Лоев (Emerson/Loew), спецэффекты Дэниел Кэтрин (Daniel Catherine). Внутренний пакет включает, с одной стороны, тексты песен, и наборы контактных отпечатков Ринго, с рулонов фотоплёнки, с другой.

В США пластинки данного сборника изготовлялись на трёх фабриках: в Джексонвилле, Лос-Анджелесе и Винчестере. Полиграфия была практически одинакова для всех трёх фабрик за исключением верхнего обреза внутренних пакетов. Прямой верх был у экземпляров фабрики Лос-Анджелеса, а закругленный у фабрик Джексонвилла и Винчестера.
Пластинки между фабриками можно различить только лишь по надписям на сбеге дорожек перед этикеткой, где помимо матричного номера стояло клеймо конкретного завода. Также, все экземпляры имели штамп MASTERED BY CAPITOL, который был выбит мелким шрифтом машинным способом.

Этикетка Apple на этом издании — это не просто окрашенная в красный цвет копия стандартной этикетки. Информация об авторских правах внизу, а также имя исполнителя и название вверху являются частью фона этикетки.

Некоторые ранние экземпляры Apple имели на термоусадочной пленке наклейку в форме звезды, рекламирующую сборник. Копии 1976 года уже имели наклейку из золотой фольги, рекламирующую сборники лучших хитов Capitol за этот год как "The Greatest Music Ever Sold".