Updated November 15, 2023

Label (Company)
Country
Format
Number of records
Catalogue number

PCS 7168 / 0C 062 ο 05762

Catalogue number of side 1
Catalogue number of side 2
Matrix number of side 1

YEX-939-3U

SW1-3417-ENG TML-S

[machine stamped / hand etched]

Matrix number of side 2

YEX-940-3U

SW1-3417-ENG TML-S

[machine stamped / hand etched]

Mono or Stereo
Rotation speed, rpm
First release date
Click on image to enlarge
Щёлкните на картинку для её увеличения
Cover, front side

Обложка, лицевая сторона

Cover, back side

Обложка, задняя сторона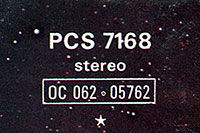 Cover, back side - fragment with catalogue number
of the UK release (right upper corner)
Обложка, задняя сторона - фрагмент с каталожным номером
английского издания (правый верхний угол)

Cover, back side - fragment (central lower part)
Обложка, задняя сторона - фрагмент (центральная нижняя часть)
Cover, back side - fragments with the abbreviated name of the printing house
and Apple logo (left and right lover corners)
Обложка, задняя сторона - фрагменты с сокращённым названием типографии
и логотипом фирмы "Apple" (левый и правый нижние углы)

Spine - the front side of the cover up
Корешок - обложка расположена лицевой стороной вверх


Top edge – the view overlooking the top edge
Верхний торец, вид сверху
Inner sleeve, front side

Внутренний пакет, лицевая сторона

Inner sleeve, back side

Внутренний пакет, задняя сторона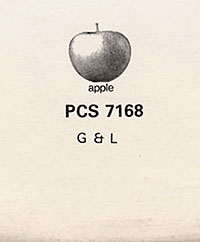 Inner sleeve, back side - fragment with Apple logo,
catalogue number and the abbreviated name of the printing house, (central lower part)
Внутренний пакет, задняя сторона - фрагмент с логотипом фирмы "Apple",
каталожным номером и сокращённым названием типографии (центральная нижняя часть)
Label, side 1

Этикетка, сторона 1

Label, side 2

Этикетка, сторона 2
SIDE 1
| | | | |
| --- | --- | --- | --- |
| N | Titles and authors | Time | Comments |
| 1 | (It's All Da-Da-Down To) Goodnight Vienna (John Lennon) | 2:35 | Featuring John Lennon on opening count-in and piano and Billy Preston on clavinet. |
| 2 | Occapella (Allen Toussaint) | 2:55 | Featuring Dr. John on piano and backing vocals. |
| 3 | Oo-Wee (Vinni Poncia - Richard Starkey) | 3:45 | Featuring Dr. John on piano. |
| 4 | Husbands And Wives (Roger Miller) | 3:34 | Featuring Carl Fortina on accordion. |
| 5 | Snookeroo (Elton John - Bernie Taupin) | 3:27 | Featuring Elton John on piano and Robbie Robertson on guitar. |
SIDE 2
| | | | |
| --- | --- | --- | --- |
| N | Titles and authors | Time | Comments |
| 1 | All By Myself (Vinni Poncia - Richard Starkey) | 3:21 | Featuring John Lennon on guitar. |
| 2 | Call Me (Richard Starkey) | 4:07 | Featuring Klaus Voormann on bass guitar, Steve Cropper on electric guitar, David Foster on piano. |
| 3 | No No Song (Hoyt Axton - David Jackson) | 2:33 | Featuring Harry Nilsson on backing vocals and Nicky Hopkins on electric piano. |
| 4 | Only You (And You Alone) (Buck Ram - Ande Rand) | 3:26 | Featuring John Lennon on guitar, Steve Cropper on guitar, Billy Preston on electric piano and Harry Nilsson on backing vocals. |
| 5 | Easy For Me (Harry Nilsson) | 2:20 | Featuring Lincoln Mayorga on piano. |
| 6 | Goodnight Vienna Reprise (John Lennon) | 1:20 | Featuring John Lennon's intro, "OK, with gusto, boys, with gusto!". |
NOTE
(It's All Da-Da-Down To) GOODNIGHT VIENNA
Ringo Starr - Lead vocals, drums
Jim Keltner - Drums
John Lennon - Piano and inspiration
Billy Preston - Clavinet
Lon Van Eaton - Guitar
Jesse Ed Davis - Guitar
Trevor Lawrence - Horn
Steve Madaio - Horn
Bobby Keyes - Horn
Lon Van Eaton - Horns
Clydie King - Backing vocals
The Blackberries and the Masst Alberts - Backing vocals
Carl "Weddings and Barmitzvahs" Fortina - Accordion

OCCAPELLA
Ringo Starr - Lead vocals, drums
Jim Keltner - Drums
Dr. John - Electric piano
Lon Van Eaton - Guitar
Jesse Ed Davis - Guitar
Klaus Voorman - Bass
Trevor Lawrence - Horn
Bobby Keyes - Horn
Steve Madaio - Horn
Lou McCreery - Horn
Jimmy Gilstrap - Backing vocals
Joe Greene - Backing vocals
Clydie King - Backing vocals
Ira Hawkins - Backing vocals

OO-WEE
Ringo Starr - Lead vocals, drums
Jim Keltner - Drums
Dr. John - Piano
Dennis Coffey - Guitar
Klaus Voorman - Bass
Vini Poncia - Harmony vocal
Trevor Lawrence - Horn
Steve Madaio - Horn
Bobby Keyes - Horn
Lou McCreery - Horn
Clydie King and the Blackberries - Backing vocals

HUSBANDS AND WIVES
Ringo Starr - Lead vocals
Lon Van Eaton - Acoustic guitar
Vini Poncia - Acoustic guitar, harmony vocal
Richard Bennett - Electric guitar solo
Tom Hensley - Electric piano
Carl Fortina - Accordion

SNOOKEROO
Ringo Starr - Lead vocals, drums
Jim Keltner - Drums
Elton John - Piano
Robbie Robertson - Guitar
Klaus Voorman - Bass
James Newton Howard - Synthesizer
Trevor Lawrence - Horn
Steve Madaio - Horn
Bobby Keyes - Horn
Chuck Finley - Horn
Linda Lawrence - Backing vocals
Clydie King - Backing vocals
Joe Greene - Backing vocals

ALL BY MYSELF
Ringo Starr - Lead vocals, drums
Jim Keltner - Drums
Dr. John - Piano
John Lennon - Guitar
Alvin Robinson - Guitar
Klaus Voorman - Bass
Trevor Lawrence - Horn
Bobby Keyes - Horn
Lou McCreery - Horn
Steve Madaio - Trumpet solo
Richard Perry (Bass) - Backing vocals
Vini Poncia - Backing vocals
Clydie King - Backing vocals
Linda Lawrence - Backing vocals
Joe Greene - Backing vocals

CALL ME
Ringo Starr - Lead vocals, drums
Steve Cropper - Guitar
Klaus Voorman - Bass
David Foster - Piano
Lon & Derrek Van Eaton - Backing vocals
Vini Poncia - Backing vocals
Richard Perry - Backing vocals
Klaus Voorman - Backing vocals
"Sweet" Cynthia Webb (who also doubles as a model)
- Backing vocals

NO NO SONG
Ringo Starr - Lead vocals, drums, percussion
Nicky Hopkins - Electric piano
Jesse Ed Davis - Electric guitar
Klaus Voorman - Bass
Trevor Lawrence - Horn
Bobby Keyes - Horn
Harry Nilsson - Backing vocals

ONLY YOU (And You Alone)
Ringo Starr - Lead vocals, drums
Jim Keltner - Drums
John Lennon - Acoustic guitar
Billy Preston - Electric piano
Jesse Ed Davis - Electric guitar
Steve Cropper - Electric guitar
Harry Nilsson - Backing vocals

EASY FOR ME
Ringo Starr - Lead vocals
Lincoln Mayorga - Piano
Trevor Lawrence - String arrangement
Vini Poncia - String arrangement
Richard Perry - String conductor

GOODNIGHT VIENNA REPRISE
Ringo Starr - Lead vocals, drums
Jim Keltner - Drums
John Lennon - Piano and inspiration
Billy Preston - Clavinet
Lon Van Eaton - Guitar
Jesse Ed Davis - Guitar
Trevor Lawrence - Horn
Steve Madaio - Horn
Bobby Keyes - Horn
Lon Van Eaton - Horns
Clydie King - Backing vocals
The Blackberries and The Masst Alberts - Backing vocals
Carl "Weddings and Barmitzvahs" Fortina - Accordion

Produced by Richard Perry.

Recording and Remix Engineer: Bill Schnee.

Disc Cutting Engineer: Doug Sax, The Mastering Lab.

Horns arranged by: Trevor Lawrence.
Production Assistance: Vini Poncia.

Art Direction: Roy Kohara.

Photography (Inner Sleeve): Larry Emerine.

Recorded at Sunset Sound (Los Angeles) and Producer's Workshop.

Engineering Assistant: Galen Senogles.
Remixed at Sound Labs, Inc.
Engineering Assistant: Larry Emerine.

A Richard Perry Production.

Thanks to Nancy, Gwen, Una, May and Vini's nurse.

Yet again, more thanks to Hillary Garrard, Mai Evans, and Vini "The Thrush" Poncidearo.

Special thanks to Gene Autry and Hef P.S. Buy a Terry Southern book.

John Lennon appears courtesy of Apple, E.M.I., Capitol and his fight against deportation.
Elton John appears courtesy of MCA Records.
Dr. John appears courtesy of Atlantic Records.
Billy Preston appears courtesy of A&M Records.
Robbie Robertson appears courtesy of Capitol Records.
Harry Nilsson appears courtesy of RCA Records.
Lon and Derrek Van Eaton appear courtesy of A&M Records.
Nicky Hopkins appears courtesy of Mercury Records.
Clydie King appears courtesy of Chelsea Records.
Sherlie Mathews, Venetta Fields and Flora Williams (The Blackberries) appear courtesy of A&M Records.
James Newton Howard appears courtesy of Buddah Records.
Ringo Starr's fourth solo album GOODNIGHT VIENNA was released in Great Britain on November 15, 1974. The album title has double sense. On the Liverpool slang it designates a phrase "Let's get outta here".

On the front cover is a still from the 1951 science-fiction film "The Day the Earth Stood Still" [see Pic. 1, 2] with Ringo's head superimposed over the head of Michael Rennie.

The inner sleeve no have variations. It has three corners cut off and a wide notch for easy removal of the record. The country of manufacture is not indicated anywhere. On one of the sides below is the Apple logo, the British catalog number PCS 7168 and the G & L (Garrod & Lofthouse) printing house code.

In the runout area on both sides of the record, next to the British matrix numbers are the American numbers, because the varnishes were originally cut by Doug Sax at The Mastering Lab, USA and then transferred to the UK.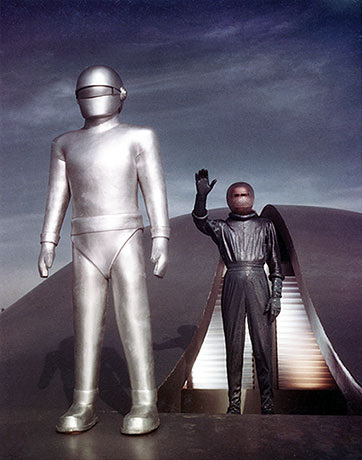 Pic. 1. Original still from the science fiction film The Day the Earth Stood Still
Рис. 1. Оригинальный кадр из научно-фантастического фильма "День, когда Земля остановилась"


Pic. 2. Copyright notice on front cover (left lower corner)
Рис. 2. Предупреждение об авторских правах на лицевой стороне обложки (левый нижний угол)
ПРИМЕЧАНИЕ

Четвёртый по счёту сольный альбом Ринго Старра GOODNIGHT VIENNA вышел в Великобритании 15 ноября 1974 года. Дословно его название переводится на русский язык как "Спокойной ночи, Вена". Однако, на самом деле, в названии альбома скрывается жаргонное ливерпульское выражение типа "Пора сваливать отсюда".

На лицевую сторону обложки пластинки был помещён монтаж, составленный на основе кадра из научно-фантастического фильма The Day the Earth Stood Still ("День, когда Земля остановилась") 1951 года [см. Рис. 1, 2], на котором робот Горт и инопланетянин Rlaatu (с головой Ринго вместо актёра Майкла Рэнни) выходят из летающей тарелки.

Внутренний пакет не имеет вариаций. У него срезаны три угла и широкая выемка для удобства извлечения грампластинки. Страна производства нигде не указана. На одной из сторон внизу расположен логотип фирмы "Apple", номер британского каталога PCS 7168 и код G & L (Garrod & Lofthouse) типографии.

На сбеге дорожек с обеих сторон пластинки рядом с номерами британских матриц находятся американские номера, потому что изначально лакеры были нарезаны Дугом Саксом в The Mastering Lab, США и затем переданы в Великобританию.


Все исходные данные по альбому (авторы композиций, музыканты, благодарности и т.д.) приведены на языке оригинала в англоязычной части примечания.